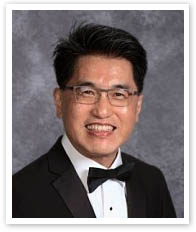 Under the direction of Dr. Gene Chung, PCS is blessed to have a wonderful instrumental program for all grades. Starting in third grade, students participate in group instruction of a stringed instrument. The group instruction is part of the elementary student's weekly enrichment classes. Many student musicians at PCS enjoy being a part of our Chamber Orchestra and perform at Grandparent's Day, Christmas Program, and Graduation.
Dr. Chung earned his doctoral degree in music from Claremont Graduate University, majoring in Orchestral Conducting. Before his journey into music, he majored in theology at Methodist Theological Seminary in Korea. In pursuit of his music ministry goal, he continued his studies at the Graduate Schools of Yonsei University and California State University, Los Angeles. He has been serving as music director of Wesley Youth Orchestra since 2003, orchestra director of Pasadena Christian School since 2011, and pastor of Charles Wesley Ministries.
Dr. Chung's lifetime project is to share the vision from Psalm 150 with generations to come by helping more children to learn instruments well in order to enrich their lives and to bring glory and honor to God.