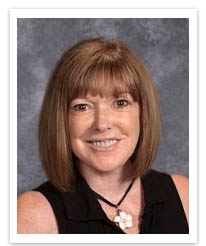 Under the direction of our music teacher, Barbara Allen, PCS has a dynamic choral program. Students perform for Grandparent's Day, Christmas Program, and in years past, have been invited to perform at the Music Center for their holiday telecast.
Mrs. Allen originates from the United Kingdom and is a graduate of the Guildhall School of Music, London, where she studied voice performance. She has worked as Choral Director/Classroom Music Teacher at PCS for 27 years and is an active member of the Salvation Army Church.
Following her success on a UK television Talent Show, she began a singing career which has spanned over three decades and has encompassed many television and theatre appearances. Barbara has recorded three Christian solo albums and performed throughout Europe, the United States, Canada, Australia and New Zealand.
In addition to performing, Barbara works as a professional Voice Coach, Choral Director and freelance Performing Arts Consultant and has directed choirs on shows such as American Idol, America's Got Talent, The American Music Awards and Dancing With The Stars.
Her greatest desire is to use her voice to glorify her Lord and to pass on her love of singing to future generations.